Have you ever ordered a bounce house or slide or any other type of inflatable and it just felt grimy and unclean, maybe it looked nothing like the picture when it got to your house? Have you ever ordered an inflatable online and on the day of the party, no one showed up, disappointing your son or daughter, for you to find out later that they took your deposit and had no intention of showing up? Well, we have too, and that is what led us to start this business!.
Here at Bounce Around Inflatables NKY, we pride ourselves on providing the latest inflatables and safest and cleanest units for our families and friends to enjoy. WE will "Bring The Bounce" at whatever type of event you may have. Also, we GUARANTEE to be at your event before it starts and we treat every customer like family.
If you are ready to get the party started, check out our growing inventory of Bounce House Rentals, Waterslide Rentals, Dry Combos, Wet Combos, Game Rentals, Concessions, and more. We are your one-stop shop for everything you need for your next party or event in Northern Kentucky! If this is your first time renting with us, scroll down to our FAQs section to learn more.
​
Questions?
Browse our most frequently asked questions list below to learn everything you need to know!
Feel free to use our Contact Form to reach out to us anytime.
Frequently asked questions
Do you have any safety tips?
---
Yes! Only children age 6 and older should use bounce houses. Younger children may not have the balance, coordination or strength to safely enjoy one. An adult must always be present to supervise. At a park or other similar setting, a trained staff member must be present to supervise. The safest way to use a bouncer is to allow only one child on it at a time. If more than one child will be using it, make sure they are about the same age and size. Before entering, have children take off their shoes, glasses, and jewelry. Make sure they empty their pockets of any sharp objects, as well. Set rules for safe play. Teach children to not roughhouse, tumble, wrestle or do flips. Have them stay away from the entrance or exit, and the sides or walls of the bouncer. If the bouncer begins to lose air, or if it's too windy, have all children carefully exit the bouncer. A good indication of when it is too windy (between 13-17 mph) is when winds raise dust and loose paper, or small branches start to move. If this is the case, stop play immediately, and have all children exit the bouncer. Check out the safety video below!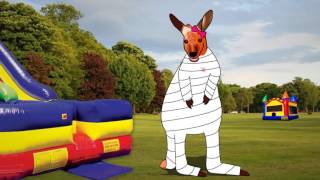 ---
We´ve rented some really dirty inflatables from other companies in our area in the past. Are they always that dirty?
---
No! Some companies don't care, but we do! The inflatable should be clean when you get it. Bounce Around Inflatables NKY cleans and disinfects after every rental. If there is ever an issue, please don't hesitate to reach out to one of our staff and we'll be happy to make it right! Call or text us at (859) 545-1100 or email us at Bouncearoundnky@gmail.com.
---
Is there a minimum timeframe that we can rent one of your units?
---
Yes, we rent our units daily, not hourly, but if you only need it for a certain amount of time during a day, that's fine, too! We do have a 6 hour minimum. This will allow us to schedule out our day to be the most effiecent to our customers!
---
What surfaces do you set up on?
---
We can set up on Grass (our favorite and best for the kids), dirt, asphalt, and concrete. Sorry, we can't set up on any type of rocks as the constant rubbing will wear through the vinyl inflatables.
---
Are we responsible for the unit if it gets a tear or damaged in any way?
---
Yes and no. You are not responsible for normal wear and tear on our units. Seams may develop tears in high traffic areas over a period of time. If this happens please alert us at once so we can remedy the situation. If however, damage occurs due to failure to follow our safety rules or negligence (i.e. not turning off the blower in high winds) you will be responsible for all damages up to and including replacement of the unit/blower etc which can cost thousands of dollars. We don't want you or us to be in that situation which is why we have you sign and initial on all of our safety rules so that you can be the trained operator.
---
Can we rent a unit to be setup in a park?
---
Yes. Please use this checklist to assist you in determining if the park you are considering is suitable for inflatables.

Check with the park for any requirements regarding reservations, possible permits and insurance needs. We have listed most park departments as "additionally insured" on our general liability policy so that we are already on their approved vendor list.

Add the Priority option to your order if you will not be at the park more than 2 hours before or after your rental time.

[ ] Go to the site and confirm requirements are met for electricity, setup area size and site conditions are appropriate for the items rented. See Onsite Requirements below for details.

[ ] Electricity. Each inflatable ride requires at least one standard 110v outlet within 70 feet of each inflation blower. Though it may be possible to run two blowers off a 20 amp circuit, it is recommended to have only 1 blower per circuit. Even though there may be multiple outlets, they may be on the same circuit thereby sharing that circuit's limited power availability. Play it safe, because if you pop a circuit breaker at a park, there may be no park staff available to reset it during your event. See Power Needed below for more details like requirements for generators if needed.

[ ] Is there a load/unload space available for our truck?

[ ] What is the distance to the site from the load/unload space?

[ ] Can we use anchor stakes? Standard are 18" long while the size used for slides 36" long--both put in at an angle. A sandbag fee may be added if stakes are not allowed.
---
Are you insured?
---
Yes and a great question to ask any inflatable rental business. Bounce Around Inflatables NKY, LLC is fully insured. We can provide a copy of the insurance policy upon request. The lessee or customer shall be in charge of monitoring each unit, unless specified otherwise. Bounce Around Inflatables NKY, LLC is not responsible for any injuries occurring to those using the rental equipment. As always, use at your own risk.
---
Can I use a water hose on a dry rental unit?
---
Under no circumstances should water be used with any inflatable that is not designed for such use. Adding water to a dry only unit will result in a $200 additional fee for cleaning and drying out the inside of the unit. We do have inflatables designed for use with water. You can check them out by clicking on the Inventory tab at the top of the page.
---
How much is delivery and setup?
---
Delivery and setup are as follows: ~Within a 15 mile radius is FREE! ~16 - 25 mile radius is a flat $50. ~Anything over a 25 mile radius is $3/mile.
---
---